The 2020 Subaru Love Promise Community Commitment Award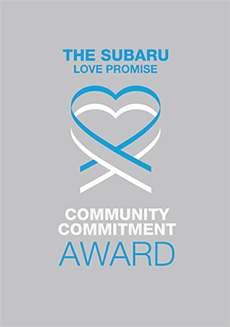 We've been nationally recognized for our dedication to our community and the Subaru Love Promise.
We're honored to receive the 2020 Subaru Love Promise Community Commitment Award. This award nationally recognizes Subaru retailers who are making the world a better place while demonstrating an outstanding commitment to supporting passions and causes in local communities. These efforts are focused in important areas such as the environment, community, health, education, and pets.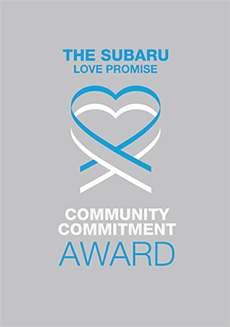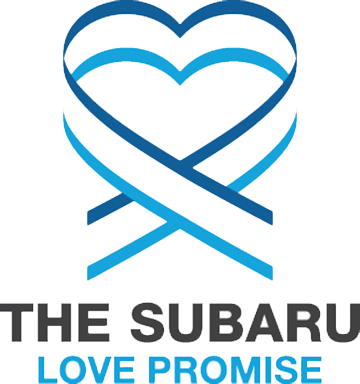 What is the Subaru Love Promise?
Subaru and our retailers believe in making the world a better place and the Subaru Love Promise is our vision of respecting all people. This is our commitment to show love and respect to our customers and to work to make a positive impact in the world.
How is Hometown Subaru dedicated locally to the Love Promise?
Hometown Subaru has been active in Subaru's "Love Promise" for many years! We value partnering with our local organizations to bring attention and resources to their individual causes. We look forward to 2019 Love Promise! Stay Tuned for great things in 2019!!
Raleigh County Animal Shelter
Raleigh County Waste Authority Recycling Program
Love Promise Stories from Hometown Subaru
Subaru and Hometown Subaru believe in making a positive impact on the communities in which we live and work. We uphold that belief through our Love Promise Community Commitment. Every month, we select inspiring stories from customers and partners from around our area who strive to support our collective commitment and feature them here
Hometown Subaru Helps With Meals On Wheels - Michael F
This February, we got the opportunity for our sales staff to help out with the Raleigh County Commission On Aging for the Meals On Wheels program!! Mike Farmer and Janeen Bailey got to go out on two of the Commission's meal routes to deliver to area seniors and met some of the people that are helped by the program. Every week they are responsible for more than 400 meals going to the local community and we are thankful for the opportunity to get the chance to go out with them!
---
Hometown Subaru Participates In Local Food Drive! - Michael F
One of our partners, WV59News this month has been working on a Souper Bowl food drive to help the United Way. Here at Hometown Subaru, we have been collecting food donations to help send over to help provide for people who need food assistance this time of the year. We have collected boxes of food and necessities from a lot of great people and have donated ourselves to help our neighbors out. This is just another one of the things we do here to help our community!
---
Hometown Subaru Sponsors 31 Pet Adoptions! - Michael F
October means a lot to us here at Hometown Subaru, because that means it's time for Subaru Loves Pets month! This year presented some challenges as we weren't able to do an adoption event with the Humane Society like normal due to Covid-19 concerns. So we teamed up with them to sponsor 31 pet adoptions through the month of October. We are happy that by doing so, each of these pets found a forever home with a loving family. Our partnership with the Humane Society is important to us, and we continue to work with them to help pets and their families throughout our region!
---
Hometown Subaru Donates Blankets To Local Shelter - Michael F
As part of the Subaru Loves To Help campaign, Hometown Subaru chose to help out the Pine Haven Shelter here in Raleigh County, West Virginia. We had four large boxes full of Subaru blankets to help people stay warm as Winter approaches that we had taken to the center. The Pine Haven center assists some of the most at risk in our community, and we are happy that the donation went to a great cause.
---
Hometown Employees Read In Local Schools - Michael F
Earlier this fall, program coordinators from the ReadAloud program came by and certified Hometown employees to read at local elementary schools to students. The ReadAloud program helps to get volunteers into local schools so that they can help foster an early love of reading in area children. Since the training, our employees have been going to local schools during the day to read different books to the students. We are thankful for the opportunity from ReadAloud, and Raleigh County Schools for allowing us to do so!
---
Hometown Subaru Pet Adoption Event- Love Pets 2019 - Michael F
The weekend before Halloween always gets a bit spooky, but it was particularly spooky Saturday at Hometown Subaru as pet owners showed up with their furry children dressed to impress. The Humane Society of Raleigh County, in correlation with Hometown Subaru, hosted an adoption event for the community to come out and adopt a cat or dog, while also taking part in Halloween festivities. Owners also showed up with their furry children, some dressed up as werewolves, cowboys, and pumpkins, to have their photo professionally taken by local photographer Karen Akers in front of a Halloween themed backdrop. The event was in response to an animal food drive hosted all month long by Hometown Subaru, in which the community and Subaru employees donated dozens of animal supplies to the shelter. "We got 100 percent of our employees to donate items, along with several members of the community," said Keith Coffman, Subaru sales manager, "This was part of the Subaru Loves Pets Month, and we got so many items like food, toys, cat litter, bleach, and new pet owners kits, which can be given to owners when they adopt the animals. "All of it goes toward the Humane Society of Raleigh County and all they do." India Hosch, the vice president of the Board of Directors of Raleigh County Humane Society, said Hometown Subaru invites the shelter to host an adoption event every year, and it's just one of the many ways they help the community. "They're just extremely pet friendly, and this is always such a lovely way to bring awareness to the Humane Society," she said. "When a big dealership steps up and helps us, it's a big deal." Hosch said it's no secret nearly every animal shelter in the state is struggling, because they don't always get the funds they need. If it weren't for the community support, they wouldn't survive, she said. "It's just awesome to know the shelter can always depend on the community to step up and help. People love their pets, and having events based around them just really helps." -- reprinted from The Register Herald
---
Hometown Subaru Walks with Those in Addiction - Leslie P
Walking in addiction is devastating and demoralizing, but on August 3, 2019, the community united at the Brian's Safehouse Inaugural 5K Run to Renew to help raise awareness of the need to renew our bodies through running or walking as well as to help those struggling to renew their lives after falling into addiction. Hometown Subaru Vice-President Lori Davis, her daughter Megan Bucker, Agent/Owner of the Hometown Insurance Group, and four-month old grandson Calvin participated in the 5K walk. Running in the race was Hometown CFO Alex Williams, who placed third in his age category. Lori Davis shared her heart for those struggling with addiction and the work of Brian's Safehouse: "I am proud to be part of the community that supports Brians's Safehouse and Sparrow's Nest. Especially now, when the people in our state are suffering so much from the drug epidemic; it is more important than ever to support a cause that shows there is hope in addiction." Congratulations, Calvin, for completing your first 5K at four months, and to Alex for your third place finish. Thank you, Lori, Megan, baby Calvin, and Alex, for being part of the Inaugural 5K Run to Renew! We are thankful for Hometown Subaru as they walk with those seeking renewal and freedom from addiction. We love our Hometown Subaru! Photos: Left to Right, Race Coordinator, Leslie Pease, Hometown Insurance Megan Buckner, Hometown Subaru Vice-President Lori Davis, and Calvin Buckner at the Brian's Safehouse Inaugural 5K Run to Renew. Hometown Subaru CFO Alex Williams finished third in his age category.
---
Hometown Subaru Loves to Give - Leslie P
Hometown Subaru was a major sponsor of the 2019 Brian's Safehouse 5th Annual Golf Outing and Fundraiser, providing Hole in One insurance, prizes, and support for the event. Golfers were excited at the prospect of winning a brand new custom Subaru Crosstrek worth $32,000. Richard Bradley of Hometown Subaru was a valuable asset on the planning committee, and his idea of selling 4' strings instead of mulligans was hugely successful, creating a lot of excitement as golfers strove to win the top three finishes and allowing even more money to be raised for Brian's Safehouse, a 12-month residential addiction program in the area. Thanks, Hometown Subaru! Photo: Safehouse board member Doug Lehman scopes out the hole-in-one prize, a customized Subaru Crosstrek.
---
Hometown Donates Blankets to Local Cancer Center - Michael F
As part of the annual Subaru Loves To Care Promotion, we donated boxes full of blankets and care packages to the local Carl Larson Cancer Center. We are happy to partner with Subaru, and our Ambassador Mike Slifer to help everyone at our local center. We are committed to the community, and will continue to support!
---
Hometown Subaru Loves Our Sparrows - Leslie P
Sparrow's Nest, a local women's residential addiction program, was given the opportunity to decorate a tree for the United Way of Southern West Virginia's "Wonderland of Trees" community display. This tree would give us the chance to tell our story and also bring in funds for United Way through donations in the form of voting for your favorite tree and also when the tree was auctioned off. With barely a week to come up with a design, decorations, "added value" items, and to get it actually on display, we called Lori Davis, owner of Hometown Subaru and extraordinary person, and asked for help. Within minutes, Lori provided us with all we needed, including the services of professional tree designer (and Hometown employee) Tina Buckner. As a team, Lori, Tina, and Megan from Hometown put their heads together with Leslie from Brian's Safehouse, and "Once Upon a Forest" came into being. Designed with lovely forest animals and birdhouses, a sparrow's nest, rustic jingle bells, and other items, it was a favorite among visitors, bringing in over $3,000 for United Way of Southern West Virginia. Sparrow's Nest and Brian's Safehouse thank Lori Davis, Tina, Megan, and all the Hometown Subaru employees for their significant contributions, making "Once Upon a Forest" possible.
---
Subaru Loves Pets October 2018 - Michael F
This October we partnered with the Raleigh County Humane Society again for the Subaru Loves Pets promotion. Earlier in the month, we had a pet adoption event at the dealership to help find a new home for some of the Society's resident animals.Throughout the month, the dealership collected pet food and supplies to donate to the Humane Society.On top of that, Subaru also donated shelter kits for the animals as well. We look forward to collaborating with and helping the Humane Society more in the future!
---
Alex Gets WVU Surprise! - Michael F
Alex Shiflett, 17, got a hero's welcome at Hometown Subaru on Monday. As Woodrow Wilson High School Flying Eagles' marching band played and Shiflett's baseball teammates watched, Shiflett got the news that he will have a first-class experience next month at two West Virginia University games in Morgantown. He'll be taking his family and his nephrologist, Dr. Rose Ayoob, with him to the games — a basketball game and a football game, complete with in-field passes. Alex, a WWHS baseball player, is waiting on a kidney. He's hoping to find a match. While he waits on a match for his A-positive blood type, he will get to look forward to the WVU games, which is made possible by Make-a-Wish Foundation of West Virginia. In West Virginia, Hometown Subaru donated more in 2018 to Make-a-Wish than any other Subaru dealership in the state, according to a Make-a-Wish representative. "I knew the Make-a-Wish had something going on, but I didn't know it was going to be this extravagant," said Alex's dad, James R. Shiflett of Beckley, moments after former WVU running back Quincy Wilson handed the itinerary to Alex, along with WVU gear, inside the Midtown showroom. "I didn't know his baseball team was going to be here, or the band." He needed this," said Shiflett, tearing up. "He needed it. It's been rough on him." Shiflett said that Alex's baseball teammates, along with friends from Independence High School, have challenged him and pushed him and have encouraged him as he battles kidney disease, which he has fought for his entire life. Alex has never had a normal teen experience, Shiflett told reporters, but he's a fighter. Even the toughest guys need a break once in a while, though, and Alex said moments like the one at Subaru on Monday make all the difference. "This is what gets me through it — everybody's help and inspiration," Alex said of the Make-a-Wish gala. "It's, literally, what makes me drive to get through it." He added that the presentation was a surprise. "I just thought it was some kind of promotion for Subaru or something," he reported. He is taking Dr. Ayoob, a graduate of the West Virginia University School of Medicine who now practices in Charleston, with him. Shiflett said Ayoob has been on Alex's side in his fight, encouraging and challenging him. Lisa Ingles, Shiflett's fiancé, said she wanted to take the opportunity to ask potential donors with A-positive blood to contact the Living Donor Team at The Ohio State University Wexner Medical Center. Potential donors may remain anonymous and be tested for a match. They may direct questions, regarding Alex Shiflett, at 614-293-6724 or by calling 800-293-8965 and selecting option 3. - Jessica Farrish
---
Brian's Safehouse Fundraiser Golf: Win a Car! - Leslie P
Hometown Subaru partners with Brian's Safehouse in the battle against addiction. For our 2018 Golf Outing Fundraiser, they provided the hole in one insurance so that anyone getting a hole in one at the 15th hole would win a brand new Subaru Impreza! We had a great day of golfing and raised funds to help fight the battle against addiction. We are thankful for Hometown Subaru and their faithful support of Brian's Safehouse.There is hope for addiction!
---
Subaru Loves Pets 2018 - Pet Adoption Event - Michael F
On October 20, 2018, Hometown Subaru partnered with the Raleigh County Humane Society to host a pet adoption event at our dealership. As part of our celebration of the Subaru Loves Pets initiative, we invited the Humane Society to come out with some animals looking for their forever homes. We are happy to say a few of those animals found a home, and always look forward to partnering with the Humane Society for these events!
---
Stanaford Elementary Book Donation - Stacy W
Hometown Automotive donated well over 100 books to Stanaford Elementary. Each grade level received at least ten science related books to use in the classroom. We appreciate Hometown reinforcing the love of reading to our students.
---
2017-2018 Stanaford Elementary Bike Donation - Stacy W
Hometown Subaru donated 7 bicycles with helmets for the most improved student from Prek- 5th grade. Students work hard and are rewarded for their hard work at the end of the year. We greatly appreciate their generosity and taking time out of their day to celebrate the accomplishment of our students. We also appreciate Hometown Subaru for making our students a priority, positively impacting their lives, and showing them care through their own community members.
---
Share The Love 2017 - Brian's Safe House - Bob F
Through Subaru of America's annual Share the Love event, Hometown Subaru raised more than $8,500 to donate to Brian's Safehouse, a local addiction treatment facility. "The only way that we can win this war against substance abuse is for the community to unite together." Said Leon Brush, co-founder of Brian's Safehouse. "Others who join with us are as much a part of the success as the brick and mortar site where it occurs." Leon and his wife, Donita, established the Safehouse 10 years ago, after losing their son, Brian to an overdose. The Brushes opened a facility called Sparrow's Nest in May 2016 to help women struggling with addiction."The cause that Brian's Safehouse has so graciously spent their time and resources on, in terms of the addiction problem, that's something that hits home with so many people, especially in our area," said Alex Williams, CFO of Hometown Automotive."The love and support from the Brushes and the commitment they have to fighting that, it just made it an easy decision for us to team up with them."
---
Hometown Donates Bicycles - Stacy W
Children are the most important part of our lives and our future. Hometown Automotive Group donated six bicycles to Stanaford Elementary for the most improved students. Students work hard all year long and are rewarded with a new bicycle at the end of the year for the most growth in their grade level. Hometown donated a bicycle for each grade level Pre K- Fifth grade. We greatly appreciate their generosity and taking time out of their day to celebrate this great accomplishment with our students. Thank you hometown for helping us impact our students lives and showing them that we when work together as a community great things can happen!
---
Hometown Donates to Help Cancer Patients - Breanna S
Hometown Subaru recently partnered with the Carl Larson Cancer Center (CLCC; formerly known as the Raleigh Regional Cancer Center) to donate blankets, craft kits, and messages of hope to cancer patients undergoing treatment in the area. Brothers Brad (a radiation therapist at CLCC) and Alex Williams (CFO of Hometown Subaru) saw the need to make patients more comfortable during treatment, and worked together in conjunction with The Leukemia & Lymphoma Society (LLS) as part of the "Subaru Loves to Care" program this summer. The staff and patients at CLCC were excited to receive the 10 arts and crafts kits and 80 blankets, delivered with care by Hometown Subaru team members. The blankets will be helpful because many patients get cold due to their condition or as a side effect of their medication. The craft kits will be available as a distraction for those who often spend up to several hours in treatment. Hometown partnered with LLS in 2016 as well, but this year was extra special because CLCC is less than 15 minutes from the dealership, meaning the Subaru staff was able to help people in their own community during their time of need. All of us at the Western PA & WV Chapter of LLS are extremely grateful to Hometown Subaru for partnering with us to spread love, hope, and warmth to cancer patients right here in our own hometowns.
---
Flood Relief Efforts in West Virginia - Margaret O
Beckley, WV April 6th, 2017 Subaru Share the Love Event Raises over $51,000 for United Way's. During this 9th year of Subaru's Share the Love Event, all eight West Virginia Subaru retailers went above and beyond by selecting United Way as their hometown charity to support flood relief efforts in central and southern West Virginia. As the Share the Love hometown charity, customers at Hometown Subaru had the option to select the United Way to receive the $250 donation when they purchased or leased a new Subaru in November and December. These donations were then matched by Hometown Subaru. United Way of Central WV, United Way of Greenbrier Valley and United Way of Southern WV were very thankful for these Subaru retailers and their joint effort to raise funds for people most affected by the June 2016 flood. The check presentation was made at United Way of Southern West Virginia by Subaru retailers from Cole Subaru, Jenkins Subaru and Hometown Subaru.
---
Subaru Loves Learning 2016 - Mike F
Hometown Subaru recently partnered with the American Association for the Advancement of Science. Through this initiative, Subaru and Hometown Subaru donated outstanding science books witht he goal of engaging young learners in the world of science and inspire them to want to learn more at Stanaford Elementary School
---
RCCOA's Share the Love Experience - Terri T
During 2016, Raleigh County Commission on Aging (RCCOA) was fortunate to be chosen as the Hometown Charity for Hometown Subaru in Mount Hope, WV. When Ernie Davis, owner of Hometown chose RCCOA, he stated, "I want to feed people." The partnership was a great one. RCCOA feeds 165 hungry seniors in Raleigh County, WV, six meals every week. During March of 2016, RCCOA participated in the March for Meals event sponsored by Meals on Wheels America. Several employees of Hometown Subaru helped us deliver meals that month, and served meals in our dining room. They also helped us raise some donations. RCCOA was one of the charities included in the Share the Love Event at Hometown Subaru, and recently received an amazing donation from Subaru of America and Hometown Subaru of $11,260.77! Our government funding for meals programs is currently being threatened. This donation has given us hope for the future.
---
Subaru Loves Pets 2016 - Mike F
Pets are an important part of our lives, and many of our customers' lives as well. In October, at Hometown Subaru, we collected pet food and supplies to help the Raleigh County Humane Society. This is important to care for these animals in the process of finding their permanent home. We are proud of the work the community has done in providing these supplies to the great staff down at the Humane Society!
---
Subaru Share The Love 2016 - Mike F
We would like to thank everyone who purchased a car this holiday season from our dealership. The money donated on your behalf to these worthy charities will help make a difference in the lives of many, and we would not have been able to do it without you, our valued customers. We want everyone to have a great 2017 going forward!
---
Subaru Loves Learning Book Drive August 1 - 31 - Danielle S
Join us in our Subaru Loves Learning initiative during the month of August! We are partnering with the American Association for the Advancement of Science (AAAS) in donating science books to New River Elementary School in the Fayette County School District. All of the books that will be donated have been recognized by AAAS as some of the best science books in their field. Contact us to learn more information.
---
Subaru Loves the Earth - E-Waste Event - Danielle S
We would like to thank our customers for participating in our E Waste Recycling event during the month of April. With your help, we were able to prevent 6,596 lbs of carbon emissions from polluting the atmosphere. This is equivalent to saving 253 trees, 1,122 gallons of gasoline, 9,562 plastic bottles, and 43,980 aluminum cans. Thank you for helping strengthen the Subaru Love Promise!
---
April 1-30, 2015 E-Waste Recycling Event - Molly M
Throughout the month of April, we are hosting an E-Waste Recycling Event in our store to collect unwanted electronics. We've arranged to work with a company who will responsibly collect, re-purpose, and recycle your electronic waste. Help us protect our environment. Just show up with your E-Waste and we'll do the rest! The first 50 customers who contribute will receive a complimentary environmental badge of ownership. We will accept: LCD Monitors, Cell Phones, Laptops, Tablets, CRTs up to 40 inches, Video Games/Consoles, Fax Machines, DVD/VCR Players, Printers, Computer Peripherals, Switches/Routers, Cords and Wires.
---